Sig just announced a new carry size handgun the P365.
From Sig:
"Introducing the game changing P365.  Micro-compact everyday carry size with unprecedented 10+1 full-size capacity.

The P365 is striker-fired, with the clean crisp trigger pull you expect from a SIG. Lightweight and easy to conceal, the P365 is chambered in 9mm and is rated for +P ammunition.

Included standard is SIGLITE night sights, a 10-round flush fit magazine, and a 10-round extended magazine. An optional 12-round extended magazine allows you to bring the total capacity to 13 rounds. "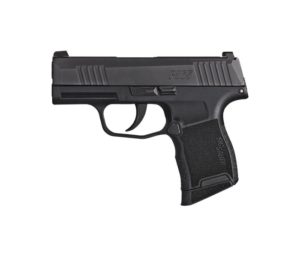 You can buy it here once they arrive:
http://shop.redcircletactical.com/catalog.php?search_for=798681589067
Update: Sig Sauer had a supply problem with the company that produces the sights for this gun. As a result, there was an unplanned delay and sig had to locate a new supplier and get the parts built.  Expect some delays in availability of this firearm.