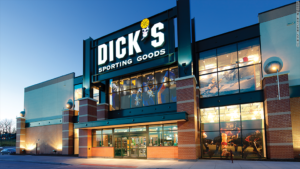 I guess this is a first.
A company that actively sells firearms has hired a firm to lobby congress on their behalf in support of GUN CONTROl.
Yep, that is correct, Dicks Sporting Goods (as well as Field and Stream Stores) are now  pro-gun control.
I guess destroying all of their 'AR-15' style weapons inventory and refusing to sell to persons less than 21 years of age was not enough.
Please share this news with everyone you know, especially those who are pro-gun and let them decide if they want to support that chain anymore.
I know my answer.
You will also want to contact all firearm related manufacturers that Dick's carries and let them know that you are concerned and ask them if they plan to stop selling to Dick's and take it from there.
This will not stand.
Details are here:
http://thefederalist.com/2018/05/02/dicks-sporting-goods-hired-four-democrat-gun-control-lobbyists-april-records-show/